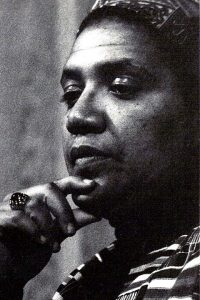 Audre Lorde, an American writer, feminist, librarian, and civil rights activist, was born on this day in 1934.  She was a self-described "Black, lesbian, mother, warrior, poet," who dedicated both her life and her creative talent to confronting and addressing injustices of racism, sexism, classism, capitalism, heterosexism, and homophobia.
On August 27, 1983, Audre Lorde spoke at the March on Washington for Jobs and Freedom. "Today we march," she said, "lesbians and gay men and our children, standing in our own names together with all our struggling sisters and brothers here and around the world, in the Middle East, in Central America, in the Caribbean and South Africa, sharing our commitment to work for a joint livable future. We know we do not have to become copies of each other to be able to work together. We know that when we join hands across the table of our difference, our diversity gives us great power. When we can arm ourselves with the strength and vision from all of our diverse communities, then we will in truth all be free at last."
The Callen-Lorde Community Health Center, named after Michael Callen and Audre Lorde, is an organization based in New York City, dedicated to providing medical health care to the city's LGBT population without regard to ability to pay. The Keith Haring Foundation is proud to support the work of Callen-Lorde and it's Nurse Practitioner Postgraduate Fellowship in LGBTQ+ Health .
Audre Lorde died in 1992 at age 58 after a 14-year struggle with breast cancer.  Google is celebrating her life today, and we encourage all to learn more about the incredible work of Audre Lorde.